Are you looking for the perfect range bag? Whether you are new to shooting or experienced, finding the right bag can make all the difference. However, with so many options on the market, it can take time to know where to start. Here are some tips on what to consider when shopping for a range bag. Also we will tell you how much to spend on a range bag.
The amount to spend on a range bag varies based on your needs. Basic bags can cost $20-50, while high-quality, feature-rich options range from $75-200 or more. Invest according to your shooting frequency and storage requirements.
How Much To Spend On A Range Bag
How much should you be prepared to spend if you're in the market for a new range bag? Well, the answer depends on your needs and budget. It's always a good idea to buy the best quality bag that fits your budget, as it will help ensure your items stay safe and organized.
For an everyday range bag, between $50 – $150 is an acceptable price range. However, if you're looking for something to use daily, such as one with specialized compartments or specific features, you may have to spend a bit more – anywhere between $100 – $400 is normal. It's essential to stay moderate with the price tag and stick to what feels comfortable for your budget.
Also Read: Is Carrying Your Pistol In A Range Bag Considered Concealed?
Tips To Consider While Shopping for A Range Bag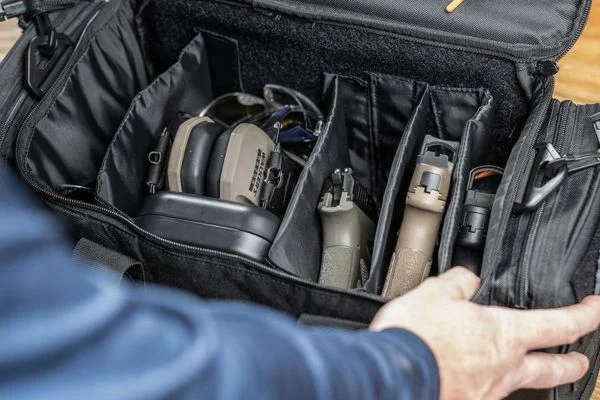 Size and Capacity
The first thing you'll want to consider is size and capacity. How much gear do you need to carry? Do you want multiple compartments? Will you need space for your firearms as well as accessories?
The size will also depend on how often you plan to use your range bag—are you shooting once a month or once a week? If it's more frequent, more giant bags with plenty of pockets and compartments are ideal. On the other hand, smaller bags may be enough if you're starting out and don't have much gear yet.
Also read: What To Look For In A Range Bag?
Budget
It's essential to set a budget before shopping for a range bag. There are many types of bags available in various price ranges, from basic models starting at around $20-$30 to luxury models costing hundreds of dollars.
While it may be tempting to go for the most expensive one, it may not be necessary, depending on your specific needs and shooting frequency.
Consider what features are most important for your particular situation and decide how much you're willing to spend accordingly.
Durability
Durability should also factor into your decision-making process when choosing the right bag. You want something that can stand up to regular wear-and-tear from outdoor activities like shooting or hunting trips.
Look for materials like heavy-duty nylon or canvas that offer high levels of durability and water resistance. Try out different models in person before buying to get an idea of how durable they are firsthand.
Other Features To Consider
When shopping for a range bag, several features should be considered. First, consider the material you want your bag to be made from—nylon or canvas is usually best because they are lightweight but durable.
Next, consider whether the bag has additional pockets or compartments that can be used for storing ammunition and accessories like ear protection and cleaning supplies. Some bags also come with padded interiors that can help protect your firearms during transport and storage.
Also Read: How To Organize Range Bag?
Bottom Line:
Now, you know how much to spend on a range bag. Finding the perfect range bag doesn't have to be complicated! By considering factors such as size and capacity, budget, and durability, website owners and SEO newbies can find a great option that fits their needs without breaking the bank.
No matter what type of shooting activities you plan on doing in the future, having the right bag ensures that everything is organized and ready whenever—and wherever—you need it! Good luck finding your perfect range bag!