If you're a firearms enthusiast, then you know that having an organized range bag is the key to an enjoyable day at the range. However, with all the different accessories and tools needed for shooting, it can be overwhelming trying to keep everything in its place. But don't worry—we've got you covered! Read on for tips on how to organize range bags. So that you can stay focused on what matters most—your shooting and safety.
To organize your range bag: separate ammo, mags, accessories, use dividers, label compartments, prioritize essentials, and declutter regularly for a streamlined and convenient setup.
What Is a Range Bag?
A range bag is essentially an oversized duffel that provides shooters with a convenient way of carrying all their necessary gear to and from the shooting range in one organized package. These bags come in two main varieties—soft-sided and hard-sided.
Soft-sided bags are typically made from heavy-duty canvas or ballistic nylon. They feature multiple pockets both inside and outside for organizing ammo, firearms, cleaning supplies, ear protection, eye protection, targets, etc.
Hard-sided bags are usually constructed from durable plastic or metal materials and offer more durability than soft-sided bags while still providing shooters with plenty of storage space.
Also Read: How Much To Spend On A Range Bag?
Types of Range Bags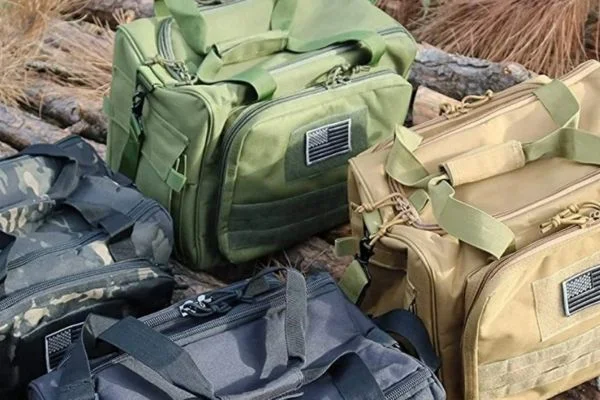 Range bags come in various shapes and sizes, from small rollers that can fit into a backpack to larger wheeled duffel-style bags. The size and shape of the bag you choose will depend on your specific needs. For example, a smaller bag should suffice if you take one firearm with you when you go to the range.
On the other hand, if you plan on taking multiple firearms or lots of ammunition with you, then a giant bag might be more appropriate.
Features To Look For
Certain features should be considered when choosing the right range bag for you. For example, some bags have built-in compartments explicitly designed for handguns, while others are designed for longer firearms like rifles or shotguns. It's also essential to ensure that your bag has enough pockets and compartments to keep all your shooting gear organized.
Additionally, look for bags with adjustable straps to be comfortably carried over long distances or even used as backpacks if needed.
Additional Considerations
When shopping for a range bag, it's important to consider durability and weather resistance since these bags could be exposed to rain or snow if left outside during inclement weather conditions.
Additionally, some range bags come equipped with additional features like organizers or velcro straps which help keep items securely in place while in transit. Furthermore, look for bags made from nylon or canvas, as these tend to be more durable than other fabrics, such as cotton or polyester blends.
Also Read: Which Range Bag Holds The Most Magazines?
How To Organize Range Bag | Pro Tips
The first step in organizing your range bag is ensuring all essentials are included. This includes books or manuals, ear and eye protection, cleaning supplies, ammunition, spare magazines, and any other items you need while at the range. Once this is taken care of, it's time to start organizing!
One way to organize your range bag is by categorizing it. This means separating all of the items into different categories that make sense for you. For example, if you have multiple types of ammunition, put them in their compartment, so they're easy to find when needed.
The same goes for cleaning supplies—separate them from the other items in your bag, so they don't get mixed up. It's also a good idea to designate specific compartments as "quick-access" compartments for items you use more often than others (such as ear and eye protection).
Another great way to keep your range bag organized is by using dividers or organizers inside it. Dividers allow you to create smaller pockets within the main pocket of your range bag for easy access and organization. You can also use mesh organizers or plastic boxes with lids to keep small items from getting lost or mixed up with larger ones in your bag.
Finally, always label each item in your range bag clearly (if possible) so that you know exactly what each one is and where it belongs when not in use. This will help save time at the range since no guesswork will be involved when finding particular items quickly!
Also Read: How To Pack A Gun Range Bag?
Bottom Line:
So, how to organize range bag? An organized range bag helps ensure an enjoyable experience at the shooting range or wherever you may be shooting outdoors or indoors.
By taking some extra steps now, such as classifying and labeling items in your bag, you'll save yourself a lot of time when looking for specific items quickly and easily!
Keeping everything orderly will also help keep everyone safe while at the shooting range because everyone knows where their gear should be located before beginning their session. So consider these tips next time before heading out with an unorganized mess!