We've all seen ourselves in the mirror and noticed that our makeup doesn't look right, or our skin doesn't look as good as it did at home. When getting ready, having less-than-ideal lighting can be frustrating. That's why LED mirrors are great. Are LED mirrors worth it? We will explain what LED mirrors are, how they differ from regular mirrors, and whether LED mirrors worth the money.
---
What are LED Mirrors?
LED mirrors have LED lights, which provide better lighting than fluorescent or incandescent bulbs. LED mirrors usually have flexible lighting options to adjust them to your liking. You can apply makeup, shave, or do your hair in the perfect lighting.
---
How LED Mirrors Are Different From Regular Mirrors
Light is one of the biggest differences between LED mirrors and regular mirrors – LED mirrors provide a brighter, more natural light closer to daylight than regular bulbs.
With this type of light, it's easier to see what you're doing, reducing the chances of makeup disasters in dim or uneven lighting. LED mirrors often come with magnification to see even the tiniest details.
---
The Pros of LED Mirrors
An LED mirror is a great investment for a lot of reasons. Firstly, they provide better lighting to see what you're doing and make it look good. LED mirrors also come in various styles and sizes, so you can find one that matches your bathroom decor.
Their long lifespan – most LED bulbs last up to 50,000 hours – and energy efficiency can save you money in the long run.
Also Read: How To Install LED Lights On Vanity Mirror?
---
The Cons of LED Mirrors
There are also some downsides to any product. LED mirrors are usually more expensive than traditional mirrors, which could be a dealbreaker for some. Furthermore, LED bulbs can be harsh, so it's important to find a mirror with adjustable lighting to adjust the brightness.
Choosing an LED mirror with a built-in battery can provide significant disadvantages regarding durability and may hinder its ability to last a long time.
---
Are Led Mirrors Worth It?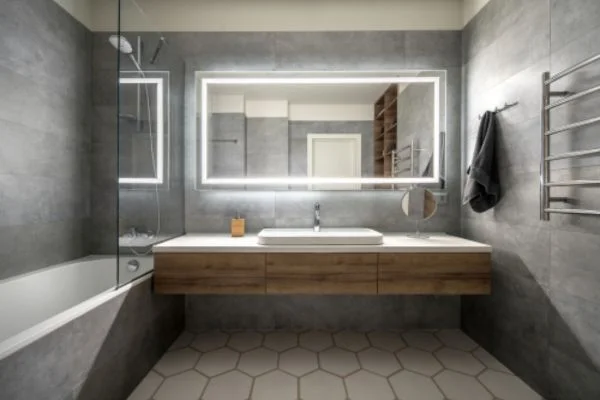 If you are squinting at your reflection in a poorly-lit bathroom, you might consider investing in a LED mirror. Designed with built-in lights that mimic natural daylight, these mirrors give you a brighter and clearer reflection.
Not only will you be able to see yourself better, but you'll also be able to apply makeup, style your hair, and complete your skincare routine more precisely.
LED mirrors may seem pricey at first, but the benefits are undeniable. Invest in an LED mirror if you want flawless skin and improve your beauty game.
Also Read: How To Replace A LED Vanity Mirror Lights?
---
How Long Will An Led Mirror Last?
There's been a revolution in our daily routines thanks to LED mirrors for a while now. The best part about these mirrors is that they last longer than traditional bulbs, so that you can apply makeup and skincare with the perfect lighting.
What's the lifespan of an LED mirror? It depends on a few things, like the quality of the components, how often it's used, and how well it's maintained.
LED mirrors usually last 50,000 to 100,000 hours. You've got a lot of time to do your makeup! An LED mirror is a good investment if you're looking for something that lasts a long time.
---
Do Led Mirrors Provide Enough Light?
Have you ever spent hours perfecting your makeup, only to realize it's almost as if you weren't wearing any when you stepped out into the sunlight? Yeah, we do too. Here's where LED mirrors come in.
As well as providing ample and adjustable lighting, they also provide a clear reflection so you don't miss anything. The real question is, do LED mirrors provide enough light? Yes, it's a resounding yes!
LED technology lets you see every detail of your face without straining your eyes. Let's say goodbye to makeup mishaps and hello to beautifully lit selfies.
Also Read: Do LED Mirrors Need To Be Plugged In?
---
Conclusion
So, are LED mirrors worth it? It's all about your preferences and needs. LED mirrors provide superior lighting and magnification to ensure you look your best while applying makeup or shaving in the bathroom.
LED bulbs can save money in the long run because of their long lifespan and energy efficiency. Make sure it fits your bathroom decor and has adjustable lighting.