Breakfast is one of my favorite meals. It's a chance to start the day with something delicious and gives me an excuse to get creative in the kitchen. The best part? Breakfast for dinner is acceptable. Whether you like sweet or savory breakfasts, so many blackstone griddle breakfast ideas can be adapted to be cooked on your griddle. I always check for new dishes that can be tried at home or even ordered out (yes, some restaurants serve pancakes for dinner!).
Four Best Blackstone Griddle Breakfast Ideas
Do you know about which breakfast is best for you, when you are on camping adventure. Here are four delicious blackstone griddle breakfast ideas:
1-Blueberry Griddle Cake
If you like blueberries, this is the recipe for you. Blueberries are a great source of antioxidants and vitamin C, which will keep your immune system strong and help fight off free radicals that can cause skin damage. They also have high fiber content, so they'll fill you up while keeping your blood sugar levels stable. Here's how you can make it.
Whisk together the flour, sugar, and salt in a large bowl.
Whisk together the eggs, milk, and butter in another bowl until smooth.
Add the wet ingredients to the dry ingredients and stir just until combined. Stir in blueberries by hand.
Coat a griddle with cooking spray and heat over medium heat until hot. Pour batter into the pan by 1/4 cupful (I like to use an ice cream scoop for this). Cook cakes until bubbles form on top and edges are dry, about 2-3 minutes per side. Transfer to plates when cooked through and repeat with remaining batter.
2-Lemon Ricotta Pancakes
These lemon ricotta pancakes are a delicious, easy-to-make breakfast or brunch option. They're also suitable for a crowd and can be enjoyed on special occasions. There's no shortage of recipes online for these delicious treats. The instructions are simple:
Whisk together the flour, sugar, baking powder, salt, and lemon zest in a large bowl.
Add eggs and milk; mix until smooth (but don't overmix).
Stir in ricotta cheese until blended; set aside while finishing other ingredients.
Heat a griddle over medium heat.
Lightly butter the griddle or spray with nonstick cooking spray; add 1/4 cup batter for each pancake onto a hot surface and cook about 2 minutes per side or until golden brown edges appear around the entire circumference of the pancake (you may have to adjust the heat up slightly at the start if pancakes seem to be browning too quickly).
Read More: How To Cook Eggs On A Blackstone Griddle?
3-Griddle-Fried Eggs with Salsa
This is one of the easiest blackstone griddle breakfast ideas you can make on an ordinary griddle. You don't need to be a chef or have special equipment, just a few essential ingredients, and patience. First, make the salsa:
Step 1: Combine tomatoes, onion, and jalapeno pepper in a food processor until finely chopped, about 2 minutes.
Step 2: Add cilantro; pulse twice for about 10 seconds each until coarsely chopped (or use kitchen scissors to chop by hand).
Step 3: Transfer the salsa mixture to a bowl and stir in lime juice, salt, and pepper; set aside.
Sauté eggs over medium-high heat until desired doneness (I like my eggs sunny-side up). Top each egg with a dollop of salsa mixture, then serve immediately with warm tortillas or toast!
4-Sweet/Savory Apple Griddle Cakes
These apple griddle cakes are a great way to use extra fruit, especially if you have a few leftovers from making baked apples. They're also delicious topped with whipped cream or ice cream. Follow the steps to make this delicious recipe.
Step 1: Peel, core, and slice the apples into 1/2-inch pieces
Step 2: In a small bowl, combine the flour, baking powder, cinnamon, and brown sugar.
Step 3: In a large bowl, beat the eggs until light yellow. Add the milk, butter, and vanilla extract to the egg mixture and beat until combined.
Step 4: Add the dry ingredients to the wet ingredients and stir until just combined. Fold in the apples until well combined.
Step 5: Heat a griddle over medium heat and grease with butter or nonstick cooking spray if you don't have a griddle available). Pour batter onto a hot griddle or pan using 1/4 cup measures for each pancake (you may need to cook in batches). Cook until bubbles form on top of pancakes before flipping them over for about 5 minutes per side or until cooked thoroughly inside with no raw batter underneath when cut into with a fork (about 8 minutes total cooking time).
Read More: Can You Make Smash Burgers On A Griddle?
Benefits Of Blackstone Griddle Breakfast
You can cook breakfast on a Blackstone griddle for several reasons. Here are some benefits: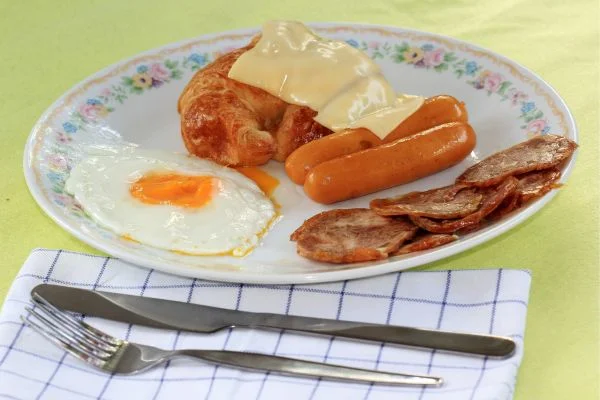 Versatility:
With a Blackstone griddle, you are able to cook multiple ingredients at once on a large, flat surface, allowing you to cook much more at the same time. In addition to this versatility, you are able to cook a wide range of blackstone griddle breakfast ideas simultaneously with the Instant Pot, such as eggs and bacon, pancakes, breakfast burritos, etc.
Even Cooking:
The griddle's flat surface ensures even heat distribution, reducing the risk of hot spots or unevenly cooked food. This consistency is especially important for breakfast items like pancakes and omelettes.
Quick and Efficient:
Using Blackstone griddles is a breeze, as they heat up quickly, allowing you to start cooking breakfast within minutes of plugging them in. If you're hungry and need a quick meal without having to spend a lot of time cooking, then this efficiency is valuable.
Easy Cleanup:
If you have a spatula or scraper handy, you can use it to remove the residue from the griddle, or you can scrape it off with a griddle scraper if you prefer. Furthermore, Blackstone griddles have a grease management system that collects excess oil, making it even easier to clean after use.
Restaurant-Quality Results:
An affordable Blackstone griddle helps you achieve restaurant-quality results at home with its professional-grade cooking surface that is used in professional kitchens. You can prepare delicious blackstone griddle breakfast that look and taste as if they have been prepared by a skilled chef.
Outdoor Cooking:
With their outdoor-friendly design, Blackstone griddles are perfect for cooking breakfast while camping, tailgating, or enjoying an outdoor brunch while you're relaxing on your patio.
Customizable Breakfasts:
If you own a Blackstone griddle, you will have the option to customize your breakfast according to your liking. Build your own breakfast sandwich, create your own omelette, or customize your pancakes with ease with this easy-to-use cooking tool.
Social Cooking:
The act of cooking breakfast on a griddle can be a social experience for a family or group of friends. In addition to being a great choice for gatherings and brunches, you can talk with your friends and family while preparing meals.
Reduced Odors Indoors:
When you prepare breakfast on an outdoor griddle, you are able to prevent cooking odors from lingering in your home, ensuring that the air in your home always smells fresh.
Healthier Cooking:
Griddles require less oil for cooking, allowing you to prepare healthier blackstone griddle breakfast ideas. You can cook with minimal grease, reducing excess fat in your morning meals.
However, cooking breakfast on a Blackstone griddle gives you versatility, even cooking, efficiency, easy cleanup, and the chance to create customized and restaurant-quality breakfasts. A Blackstone griddle makes breakfast cooking fun whether you're outdoors or indoors.
Read More: How To Season A Griddle Grill For The First Time?
FAQs About Blackstone Griddle Breakfast Ideas
If you're looking for traditional breakfasts, healthy options, or vegetarian/vegan options, these FAQs will help.
Can I cook some popular breakfast dishes on a Blackstone Griddle?
You can make pancakes, eggs (scrambled, fried, or sunny-side-up), bacon, sausage, breakfast burritos, French toast, and even hash browns on a Blackstone griddle. You can make anything you want for breakfast with the griddle.
Are Blackstone Griddles healthy for breakfast?
Yes, absolutely! Various dietary preferences can be accommodated on Blackstone griddles. Using minimal oil, fresh veggies, lean proteins, and whole grains can help you prepare healthy breakfasts. You can make veggie omelettes, turkey sausage patties, or whole wheat pancakes.
Is there a way to prevent food from sticking to the griddle?
The griddle needs to be preheated properly and lightly greased with oil or butter before cooking to prevent food from sticking. If you don't want your food to stick, make sure the griddle is at the right temperature.
Does Blackstone Griddle have veggie or vegan breakfast options?
You can make vegetarian and vegan breakfasts with Blackstone griddles. There are plant-based options like tofu scrambles, stir-fries, vegan pancakes, and vegan breakfast burritos loaded with veggies and plant-based proteins like tofu or tempeh.
How Do I Cook Multiple Breakfast Items at the Same Time?
Yes, Blackstone griddles have a big cooking surface, which is one of their benefits. This makes it easy to cook a full breakfast spread for your family or guests. You just have to manage the temperature zones correctly for each item to cook evenly.
Conclusion
Breakfast is a great way to start the day and gives you energy for whatever you need to do. So whether it's a simple bowl of oatmeal or something more complex, try out one of these four blackstone griddle breakfast ideas today!